We've bought Rain a floater vest, and the usual ring floaters. But somehow it just doesn't really teach her how to float independently on water. She still needs support from an adult because at some point they either make jerky movements and sink, or with some floaters with leg holes, half of their body is not really submerged in water, leaving them cold. So you'd have to constantly wet your toddler's head so they won't catch a cold. But I believe we have found the perfect floater for Rain!
Until now, we still can't get over the fact that Rain can swim in the deep end of the pool. And it's all with the aid of this amazing and brilliant floater, the Puddle Jumper by Stearns! It's the best I've seen so far!
Say hello to Rain's pink Puddle Jumper! We bought it from Toys R Us for P999.75. They also have it in Green and Orange with different smiley styles. I always contemplate on getting unisex colors so that in the future when we have our baby #2 (assuming it's a boy), he can still use it. But I always cannot resist getting girly girl colors now for Rain. Anyway, here's the front.
And here's what it looks like from the back. The foam areas are only on the arms, and the chest part. Like where you would support your baby when you're trying to teach them how to paddle. Then the back part would be where you fasten the plastic buckle.
Don't say they didn't teach you. Haha!
Don't worry. It's very easy to put on. It's got reminders all over it, for crying out loud. (Front. Back. We get it. haha!)
Day 1: And here's Rain about to jump into the pool with her Puddle Jumper!
At first I had her yaya swim with her and support her. But after Rain got the hang of it, she could already float by herself! I just constantly reminded her to spit out water whenever she would get water in her mouth.
Day 2: Swimming with her Kuya Matteo. Look Mom! No adult support!
Paddle paddle paddle. Minding her own business.
And she could already do a trick!
Watch......her.......turn....face up
...and do a semi-back float! All on her own! Hands down, this is the best swimming aid for toddlers ever! Not sure how long this has been in the Philippine market but I sure did come across it at the perfect timing!
Oh, and I googled and saw some other cool and adorable Puddle Jumper designs! I want to cry! CozI don't thin they are available here :(
Spider Man Puddle Jumper for the kid in Richie.
Hola Dora! Quieres nadar?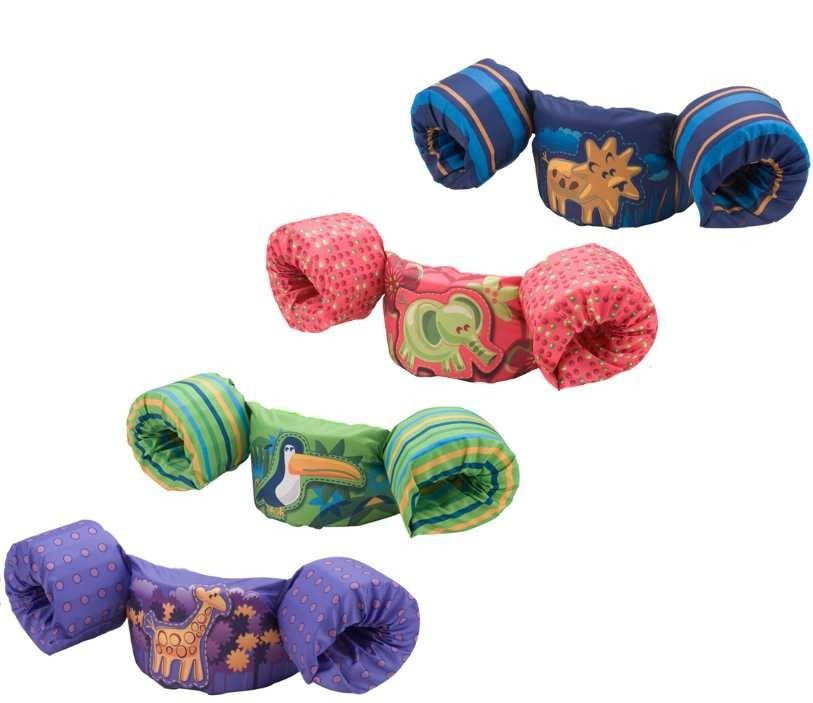 Fun and colorful animal designs from
eBay
Not sure who these are but it sure looks cute!
This one too! The designs just go on and on! See more designs
here
Product features worth knowing:
US Coast Guard-approved
Fun designs
Made of Hydroprene™ for softer fabric with less chafing
Learn-to-swim aid for beginners in the water
Comfortable design, more freedom to swim and play
Weight: 30 - 50 lbs. (13.6 kg - 22.7 kg)
Adjustable buckle snaps in back
Antimicrobial properties built in to the vest resist odor-causing bacteria on the vest
Try it! I'm sure your toddler will enjoy it! :-) But as always, never leave your child unattended!